Sweet Potato & Sausage Breakfast Hash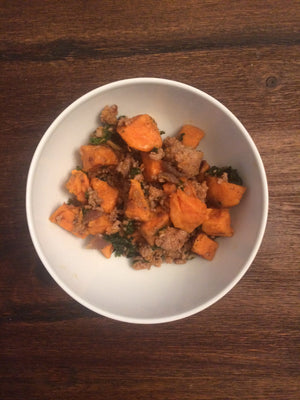 Confession… Breakfast is a challenge for me. I have both an egg and gluten sensitivity, which eliminates a lot of breakfast possibilites. My go-to recently has been Organic Valley's new grassfed plain yogurt. I usually make this for both me and my daughter and add a little maple syrup, fruit, nuts, and chia seeds. While we both like this for breakfast, I have gotten pretty tired of the same thing every morning. I've made breakfast hashes in the past for potlucks, but decided to make a big batch for us to eat on throughout the week. It has been such a nice change from our yogurt mornings. I prepped for this on Sunday evening and finished everything up Monday morning. And guys… this recipe is delicious. I've gotten rave reviews about it every time I take it somewhere to share.
Sweet Potato & Sausage Breakfast Hash 
Ingredients

4 medium sweet potatoes, peeled and diced
3.5 tbsp. coconut oil, divided and melted
2.5 tbsp. maple syrup
2 tsp. salt
1 tsp. pepper
1 tsp. paprika
1 lb. ground

breakfast

sausage (I used mild sausage from PTB Farm)
1 small yellow onion, chopped
5 c. chopped kale, stems removed
1/2 cup chicken broth (homemade broth recipe here)
Instructions
Preheat oven to 350 Degrees.
Put the diced sweet potatoes in a large bowl and toss in 2.5 tablespoons of coconut oil (melted), maple syrup, salt, pepper, and paprika. Spread the diced potatoes out onto the baking sheet and roast for 25-30 minutes.
In a large shallow saute pan, heat 1 tablespoon coconut oil on medium heat and cook the sausage and onions until the meat is browned.
Once the onions and meat are cooked, add the kale and saute for an additional 3-4 minutes until kale is wilted and soft.
Add the sweet potatoes to the pan and toss to combine all ingredients.
Pour in the chicken broth and allow to simmer together for 5 minutes and serve.
Side Note: I am often asked where I find a lot of my Organic ingredients. I buy from a combination of places including our local farmer's market, Costco, Whole Foods, and Thrive Market. If you are in an area that doesn't have a Whole Foods or Costco, I highly recommend Thrive Market. It is like Costco and Sam's club in the sense that you pay a yearly membership and then get organic items for discounted prices. There really is a huge savings and I order from there about once a month. Use my referral link to get 15% off your first purchase.
Leave a comment
Comments will be approved before showing up.