Dark Chocolate Cake + Vanilla Buttercream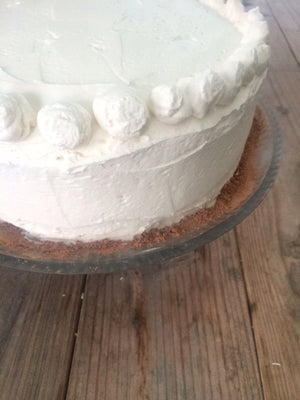 Let me start by saying that this cake is NOT paleo approved. Many of my recipes are, but I just haven't quite found a paleo cake recipe that tastes any good. That being said, I only make this cake for special occasions and I most definitely indulge in a piece or two when I make it. I must also confess that I have not been much of a baker in the past. I love cooking, but don't venture into the baking side of things very often. I wanted to learn because I think a homemade cake tastes so much better than anything store bought (and it's cheaper). I've made this cake three or four times now and it has been a hit each time. It's also super moist and relatively easy to make.  Happy baking!!
Dark Chocolate Cake w/Vanilla Buttercream Icing*
Dark Chocolate Cake
4 ounces bittersweet chocolate
1/2 cup unsweetened cocoa powder
1 tablespoon vegetable oil
1 1/2 teaspoons baking soda
1 3/4 cup granulated sugar
1/4 cup light brown sugar
2 teaspoons vanilla extract
2 teaspoons baking powder
dark chocolate shavings or cacao nibs, optional garnish
Vanilla Buttercream Icing
3-4 cups sifted powdered sugar (I typically just use 3 cups)
2 tablespoons whole milk or heavy cream
2 teaspoons vanilla extract
Directions
Preheat the oven to 350 degrees Fahrenheit.
Melt the chocolate and butter in the top of a double boiler over low heat, stirring constantly, until smooth. Remove from heat and set aside.
In the bowl of an electric mixer fitted with a paddle attachment, mix together the cocoa powder, vegetable oil, and baking soda at medium low speed. Add the boiling water and mix to combine. Add the sugars, milk, eggs and vanilla extract and mix until smooth. Add the melted chocolate mixture, flour, baking powder, and salt and mix at low speed until a silky batter forms.
Evenly distribute the batter between 2 greased 8-inch cake pans lined with parchment paper. I do this by covering the inside of the pan with butter, placing the parchment paper down, and covering that with butter as well.
Bake for 25-35 minutes or until a toothpick inserted into the center of each cake comes out clean (I start checking with a toothpick after 20 minutes). Allow to cool for 15 minutes before removing the cake from the pan and allowing the cakes to cool completely on a wire rack, parchment paper side down. The cake is very moist so if you do not leave the parchment paper on, the cake will stick to the wire rack.
To prepare the buttercream, beat the butter and powdered sugar together in the bowl of an electric mixer fitted with the paddle attachment at medium-high speed until smooth and fluffy, about 4 minutes. Add the cream and vanilla extract and continue beating until the frosting takes on an airy whipped texture, about 3-4 minutes.
To assemble the cake, place the base layer on your serving dish and coat the top with icing. Place the top layer on the cake and ice the top and sides with the buttercream. Garnish with chocolate shavings or cacao nibs and serve.
*Recipe adapted from this recipe over at Adventures in Cooking.  Her original recipe includes a lavender ganache and has lavender added into the frosting. It is also delicious, but I've found that lavender is an acquired taste and not as much of an overall hit.
Leave a comment
Comments will be approved before showing up.